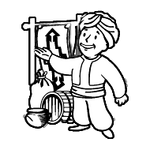 This page lists the various merchants that the player may purchase goods from in Fallout 2.
Merchants in Klamath
Edit
Duntons
Maida Buckner
Sajag
Merchants in The Den
Edit
Rebecca Dyer
Tubby
Flick
Mom
Merchants in Modoc
Edit
Merchants in Gecko
Edit
Merchants in Vault City
Edit
Merchants in Redding
Edit
Merchants in Broken Hills
Edit
Merchants in New Reno
Edit
Eldridge
Jules
Jagged Jimmy J
Renesco
Merchants in the New California Republic
Edit
Merchants in San Francisco
Edit
Ad blocker interference detected!
Wikia is a free-to-use site that makes money from advertising. We have a modified experience for viewers using ad blockers

Wikia is not accessible if you've made further modifications. Remove the custom ad blocker rule(s) and the page will load as expected.